Affiliate Disclaimer: Beforeyoubuys is supported by YOU – our reader. We may receive a commission if you buy something after clicking on one of our links (it comes at no extra cost for you but it helps us to create more useful content).
Seeing thousands and thousands of Shopify themes and templates, you may feel a little overwhelmed. How can you be sure to choose the best theme for your website?
Regardless of your style choices, the theme you buy should be intuitive to use and explore, for first-time users as well as developers and organizations.
If you want to open an online store, without worrying too much, go to Shopify. There are various themes with extraordinary features in Shopify for all types of e-commerce businesses. In this post, we'll do an in-depth booster theme review.
What Is A Booster Theme?
Booster theme is one of Shopify's most popular premium themes for dropshipping and e-shopping, founded by Mark and Justin.
If your vision is to convert your store visitors into buyers, Booster can do a big favor.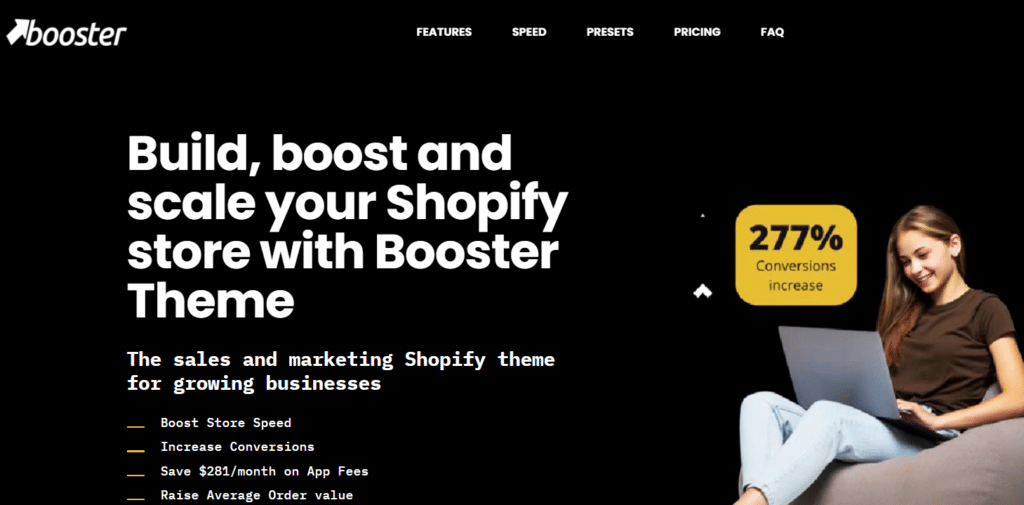 This program integrates all relevant marketing tools and can help users double their conversion rates.
Booster theme has different levels of customization, which will allow the customer to customize it to their brand, type of audience, products, and niche.
The booster theme is for someone who wants to:-
Booster Theme Review: Features You Get Here:-
The best thing about Booster is that it gets better every day. It gives advanced features at a very reasonable price for the Shopify theme.
Here are some features you get in Booster Theme that would blow your mind:-
1. Optimization of the product page
Product page optimization is one of the reasons why people find Booster Theme fascinating. You can customize anything the way you want.
Booster has made its design as clean and transparent as possible while providing all the necessary data. This way, your customers can look at product images, discount offers, and the add to cart button.
The best part about Booster Theme is even if you don't know how to use it, you can always look at the demo.
They will give you access to the demo, where you can understand how its feature works. You can also optimize the cart page which will help you in converting sales.
Booster themes also have a direct-to-checkout customization feature, in which you can skip the cart page. When someone buys a product, they usually keep it in the cart, and sometimes they may forget about the cart. By removing the cart page option, customers will directly reach the checkout page.
Research has shown that the fewer steps you put in a funnel, the easier it is to buy and that increases front-end conversions. Skipping the cart page and dragging visitors directly to the last page to complete the checkout is the literal meaning of instant checkout.
2. Countdown Timer
The product countdown timer is nothing but an impressive marketing strategy. When a customer sees a countdown on a product he likes, it creates a sense of rush in their mind. You can create this sense of urgency in the store by adding a clock countdown to your product website.
The countdown timer informs your customers that the stock of a particular product is about to run out and the special discount is about to end.
These two pieces of information are designed to be complementary, and your client knows that they must act immediately if they do not want to miss the opportunity.
Although, this is just a bluff the immediate availability of your product is a great utilization program to get your visitors to buy right away.
3. Product Upsell And Cross-sell
This feature shows customers who purchased more or similar items while checking out. This plugin allows you to add up to 6 additional matching products.
The function appears to indicate connected/similar products.
When a person wants to pay for a product, this feature will add a pop-up window that sells the product, including relevant or related products. This feature is highly used by websites like Amazon and eBay.
4. Notification Pop-ups
This is obviously a fake plugin offered by Booster Theme, that shows sales on your website that don't actually exist.
This is done to increase the urgency of your visitors and keep them happy while knowing that other visitors trust your business and are checking out.
This add-on is responsible for turning potential customers into real customers by placing fake sales.
The purpose of the app is to increase dynamism and provide the community with proof that products are being sold by other consumers.
5. Free Shipping
Don't you feel annoyed when you like a product but when you add it to the cart, the shipping price turns you off? You can offer products on the façade of your store for free. Since this works, you will be offered a free product and set the price to $0.
This feature allows marketers to offer their clients free shipping of the products and redirect them to a companion page. It is fully customizable and less complicated to set up.
6. Top-Notch Support
If you have any inquiries, you can send them to support@boostertheme.com, their official support service will give a satisfying answer as soon as possible. In most cases, you can find answers in their Frequently Asked Questions section.

Booster Theme Pricing?
Booster Theme comes with two pricing plans: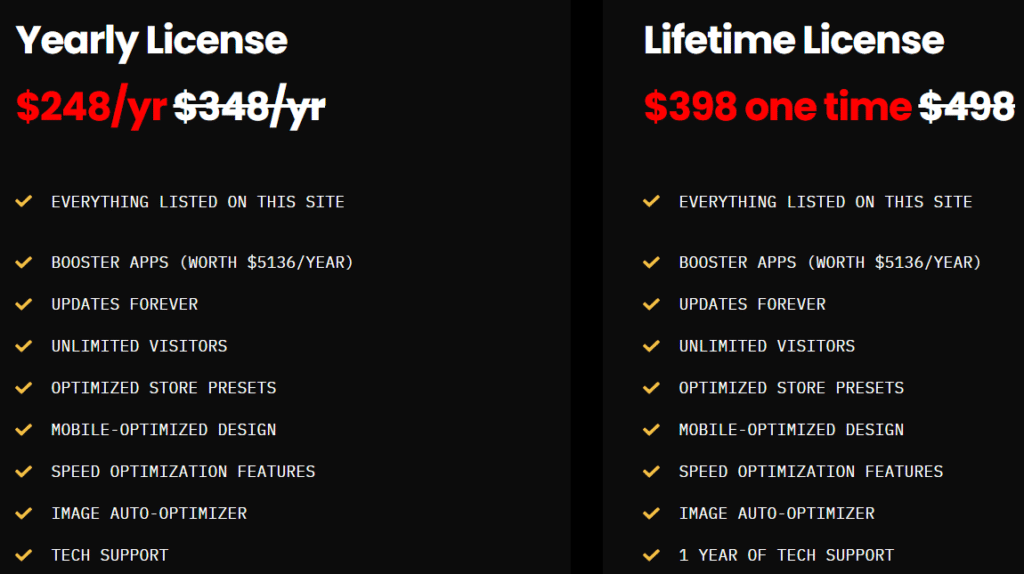 One is Yearly access and the second is Lifetime access.
Booster Theme annual plan $248 You'll get access to Booster Theme, updates, and support as long as your membership is ongoing. For the $398 lifetime plan, Your license includes unlimited updates and one year of support. This service is available for a nominal one-time fee.
From my point of view, $398 lifetime is a fair deal for such an all-rounder theme.
All these licenses will provide:
Booster Theme Customer Reviews & Testimonials: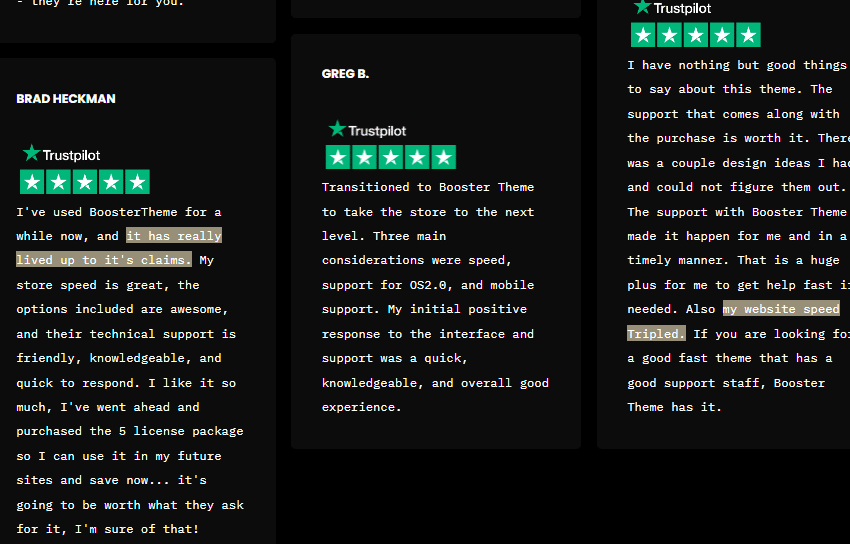 Booster Theme Alternatives
The booster theme is one of the best and has many benefits for users. However, if you are looking for the best alternatives to the Booster theme, these are 5 absolute alternatives, which we will talk about down below:-
1. Turbo Theme: The Turbo theme is one of the most popular among customers and has only received positive reviews. This theme is known for its unique features and customization options.
2. Flex Theme: Flex Theme is one of the Shopify themes that provide infinite control and options. This theme contains 13 distinctive styles that shoppers can choose from in a beautifully constructed store demo that showcases each style.
3. Konversion Theme: Konversion is a great theme aimed at dropshipping stores with lots of customizing options. This theme is a simple network that makes browsing swift and brings huge traffic.
4. Empire Theme: Empire Theme is an expensive theme built by the Pixel Union and is compatible with all types of devices. An e-commerce store, it offers many wild features and styles.
5. Shoptimized: It is an affordable theme that comes with great customization, template, and conversion options.
From landing pages and eCommerce businesses to full-blown websites, Elementor is the #1 WordPress website builder. Read our Elementor Pro Coupon article to save money if you're planning to create a WordPress website.
Conclusion: Booster Theme Review
Booster themes magically make your marketing more powerful. The built-in Shopify theme is the most effective tool for increasing the number of visitors.
The booster theme indeed helps in increasing sales, and hence many marketers have rated it 4.5 out of 5 stars.
Many business owners spend a lot of money to achieve high conversions on their websites. When every marketing plan works well, one can get a sure shot of success.
Booster Theme in this case can be a useful help to users as its conversion rate is very high compared to other platforms.
After reading this Booster theme review, if you feel Booster Theme is matching your website requirements, then stop thinking about other themes and go for it.